Calico Turns 20!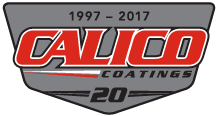 Calico was founded by racers, for racers. Tracy Trotter set out 20 years ago with the goal of developing the industry's most technologically advanced coatings. Today, they are considered one of the leaders in the coatings industry.
Calico Coatings R&D
Calico's coating solutions provide customers with the needed advantage for outstanding results. It all starts with Calico's dedication to quality and R&D.
Client Testimonials
Racing is the proving ground for all of our coatings. Under the extreme conditions of high speed and engine wear, Calico gives race teams a critical edge.