5 Benefits of Using Coatings in the Oil & Gas Industry
By Jennifer Jenkins, Calico Coatings
There are many factors that contribute to decreased equipment life in the oil and gas industry. These include drilling, moving oil and gas towards factories, relentless interaction with rough seawater and continued contact to harsh weather conditions. Where regular maintenance is not an option, these factors need tough coatings to prolong equipment life. Some coating advantages include temperature resistance, abrasion resistance, chemical resistance, corrosion protection and extreme hardness.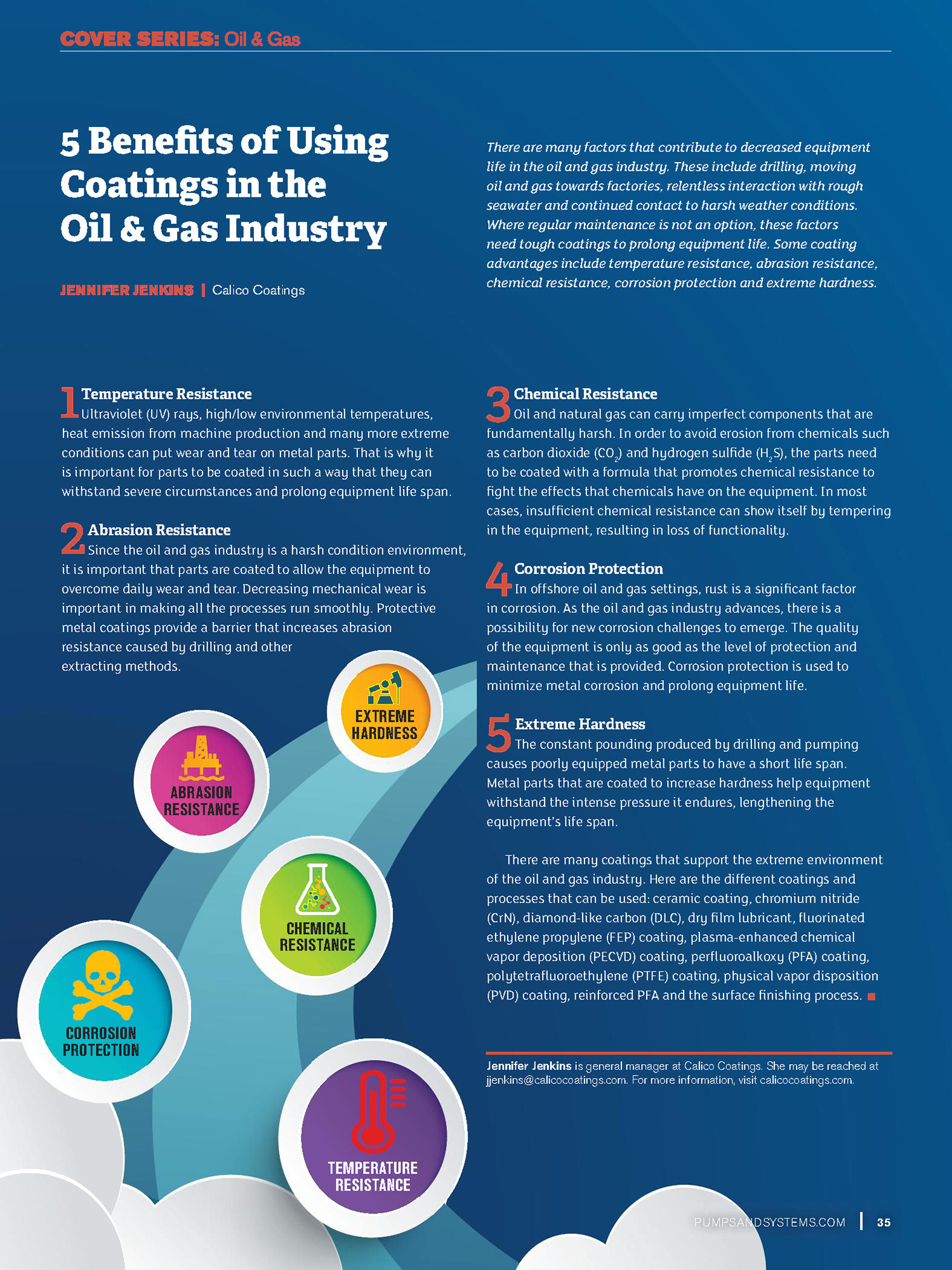 1. Temperature Resistance
Ultraviolet (UV) rays, high/low environmental temperatures, heat emission from machine production and many more extreme conditions can put wear and tear on metal parts. That is why it is important for parts to be coated in such a way that they can withstand severe circumstances and prolong the equipment life span.
2. Abrasion Resistance
Since the oil and gas industry is a harsh condition environment, it is important that parts are coated to allow the equipment to overcome daily wear and tear. Decreasing mechanical wear is important in making all the processes run smoothly. Protective metal coatings provide a barrier that increases abrasion resistance caused by drilling and other extracting methods.
3. Chemical Resistance
Oil and natural gas can carry imperfect components that are fundamentally harsh. In order to avoid erosion from chemicals such as carbon dioxide (CO2) and hydrogen sulfide (H2S), the parts need to be coated with a formula that promotes chemical resistance to fight the effects that chemicals have on the equipment. In most cases, insufficient chemical resistance can show itself by tempering in the equipment, resulting in loss of functionality.
4. Corrosion Protection
In offshore oil and gas settings, rust is a significant factor in corrosion. As the oil and gas industry advances, there is a possibility for new corrosion challenges to emerge. The quality of the equipment is only as good as the level of protection and maintenance that is being provided. Corrosion protection is used to minimize metal corrosion and prolong equipment life.
5. Extreme Hardness
The constant pounding produced by drilling and pumping causes poorly equipped metal parts to have a short life span. Metal parts that are coated to increase hardness help equipment withstand the intense pressure it endures, lengthening the equipment's life span.
There are many different coatings that support the extreme environment of the oil and gas industry. Here are the different coatings and processes that can be used: Ceramic coating, Chromium Nitride (CrN), Diamond-Like Carbon (DLC), Dry Film Lubricant, Fluorinated Ethylene Propylene (FEP) coating, Plasma-Enhanced Chemical Vapor Deposition (PECVD) coating, Perfluoroalkoxy (PFA) coating, Polytetrafluoroethylene (PTFE) coating, Physical Vapor Disposition (PVD) coating, Reinforced PFA and the surface finishing process.
Jennifer Jenkins is General Manager at Calico Coatings. She may be reached at [email protected]. For more information, visit calicocoatings.com.