Calico Hires New Quality Manager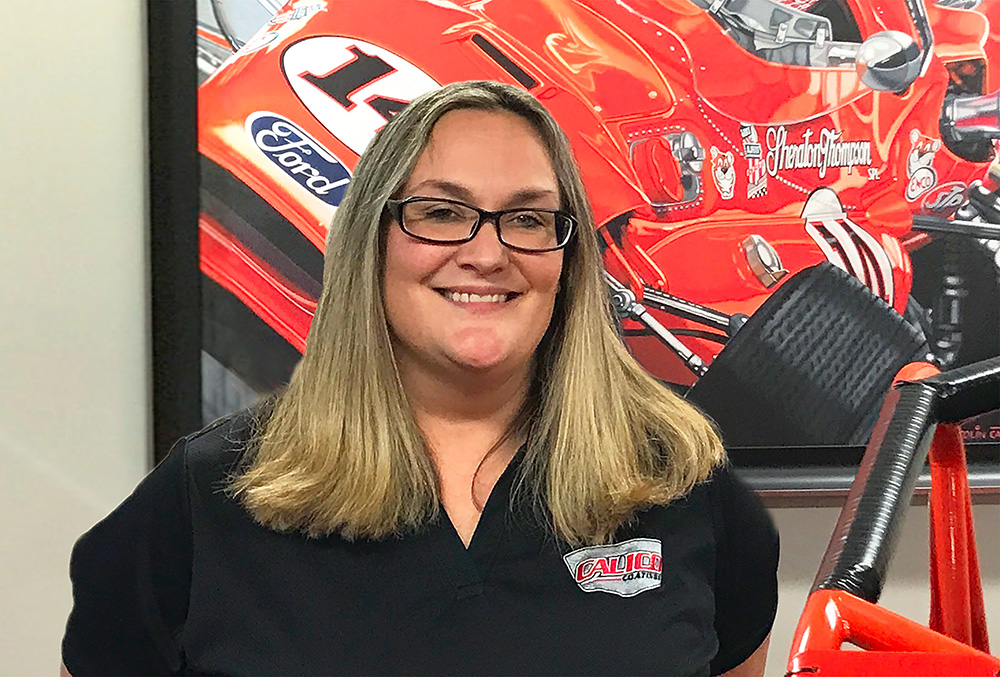 Brandi Welling is the new Quality Manager at Calico Coatings. Prior to specializing in the manufacturing industry, Brandi worked in service and hospitality where she learned the importance understanding and fulfilling upon clients' needs. In 2002, she began working at LiDestri Foods, a food manufacturer, as a Receiving Clerk. She went on to accept the title of an Assistant to the Plant Manager. While in that role she made a significant change in the operating procedures for every machine on-site from start to finish. It decreased labor and time spent in production, which helped with the efficiency of changeovers and overall operations.
When Brandi moved to North Carolina she was hired at Calico Coatings as the Thin Films Coordinator. At the time she was just looking for a job – but ended up finding a family. She remained part of the Calico team because she enjoyed having colleagues who looked at her as a person instead of a number. In September of 2019, Brandi was promoted to Quality Manager where she continues to implement the AS9100D and ISO 9001 certification processes. "As Quality Manager, I am committed to minimizing nonconformances and improving processes through a well-maintained quality management system, " says Brandi. She stressed that understanding client needs and requirements in order to develop effective quality control processes is of the utmost importance. She spends her days devising and revising specifications for products and processes, resulting in a remarkably positive effect for Calico.
Brandi didn't necessarily have the goal of being Quality Manager. But the knowledge that she applied to her various roles – the importance of being a leader and setting the standard for those around you – served as a natural segue to becoming Calicos' quality manager. Another important thing she has learned is that success comes from managing your time well. "You can have many things going on, but if you don't know what should be done first and what can wait you won't have success. Being able to prioritize is an important skill in any industry," said Brandi.
Brandi hasn't felt incapable of doing great work in a predominately male environment, but when your outnumbered she knows how important it is to go back the basics. Remaining professional, a firm handshake, good eye contact and staying open minded can go a long way to convey confidence. When asked who inspires her to stay motivated, Brandi said, "A person who can be a good leader, a good parent and continues to stay optimistic." For her, that person is her role model and little brother, Joshua. Brandi was very close to her brother who passed away from muscular dystrophy. While Joshua lived out his life, he had many challenges, obstacles and hardships, but he always remained positive. Brandi keeps his legacy alive today by following his example.
Brandi has seen many impressive things in the manufacturing industry, but seeing glass manufactured takes the cake. When she worked at LiDestri, they visited a glass company to see their operations. She said that seeing the recycled glass, sand, calcium carbonate and sodium carbonate hotter than molten lava was one of the most breathtaking things to witness.
Brandi is a dedicated wife to her husband, Mickey, and devoted mom to her two sons, J.T. and Max. It's always been important for her to excel in her career while also being extremely involved, present and consistent with her family. When Brandi isn't working, she spends most of her free time carting her kids between activities and serving her community by volunteering at their local Moose Lodge and Happy Wheelers, a handicap organization for kids. She also enjoys boating, darts, DJing and karaoke. She is a firm believer that if you work hard during the week, the weekend should be dedicated doing fun things with your loved ones.